Smile Gallery
Please review our before and afters below or learn what some of our patients have said by visiting our Testimonials Page
Dental Implants

A.N., Before
A.N., After
A. N. came in with badly destroyed upper teeth. All upper teeth were deemed unrestorable, so they needed to be extracted. The possible treatment would have been dentures, dentures retained by implants or a complete bridge permanently on the implants. The patient choose the complete bridge on implants.
The patient had the procedure called "all in 4" or "permanent teeth in a day," which means extracting all the upper teeth, replace them with implants and attach temporary teeth while the implants are healing for 8-10 weeks. The temporary teeth are fixed in the mouth (they cannot be taken out, unless the dentist takes them out). This is how the patient looks the second day after the procedure.

E.G., Before
E.G., After
E.G. came in with completely missing teeth on the top and some teeth on the bottom. He had upper and lower arches restored with implants and new sets of teeth. "My experience was terrific - the feeling and look of the implanted teeth are excellent. I was really pleased with the attention and care I received from the entire staff. Dr. Pastiu was caring and his expertise made everything easier. I heartly recommend Sewell Dental Arts for all your dental care." - E. G.

M.P., Before
M.P., After
Mary came in with a failing front upper bridge and other failing crowns on the sides. She was concerned about the cost of restoring the bridge and the prognosis of the treatment. Because of limited funds and the poor prognosis on restoring the existing dentistry, a metal-reinforced full upper denture supported on implants was chosen as the final treatment plan. The existing non-restorable teeth were removed followed by immediate implants and by complete upper arch restoration. The final result shows a nice smile of a happy patient before moving to Georgia (the next day).

R.C., Before
R.C., After
Mr. C. came to us after he had dentures done somewhere else, but he couldn't use the lower dentures because of them being loose. We placed 4 implants for him, attached the existing dentures to them and made him happy. Now he can go and have a good time in Florida for the winter.

Ryan, Before
Ryan, After
Ryan came in with all of his teeth lost due to an accident. We had dentures fabricated for him right away and placed 4 implants in the lower jaw to stabilize and retain the lower denture.

J.D., Before
J.D., After
James D. lost his two front lower teeth due to gum disease. We restored those teeth with implants.

M.G., Before
M.G., After
Michelle had an infected, non-restorable tooth that needed to be extracted. We extracted the tooth and placed an implant in the same visit. Those are the photos before and after.

R.P., Before
R.P., After
Rosanna came in because she had an infected tooth in her upper jaw. The tooth was not re-storable anymore. We decided that the solution was to extract the infected tooth, clean up the infection and place an immediate implant. The procedure was done successfully and the patient was very happy with the result.

K.H., Before
K.H., After
K.H. came in with a loose front tooth, ready to come out anytime. The tooth was loose because of the localized periodontal disease. We removed the infected tooth and replaced it with a dental implant.
Teeth-in-a-Day/All-on-4 Dental Implants
M.G., Before
M.G., After
M.G. came in because of mobile and bad looking teeth. To avoid social embarrassment and to be able to eat and function properly, we looked into different options and chose Teeth in a Day or All-on-4 procedure as the treatment. This is how he looks now in the all on 4 immediate(the same day) temporaries. In 10 weeks we are going to change them into definitive restorations made of porcelain.
B.C., Before
B.C., After
B. C. came to our office being concerned with her infected teeth under the failing bridges. Some of the bridges showed radiologically signs of infections and they were mobile. We looked into couple treatment plan options to restore her oral health, smile and confidence. We agreed that the most lucrative procedure time-wise and financially would be Teeth-in-a-Day/All-on-4/Teeth-in-1-Day. When we took the old, failing bridges out, we discovered a lot of chronic infection, removed most of the teeth and gave her a new smile supported by dental implants the same day. She has the temporary teeth for now until everything is going to heal and then permanent, porcelain teeth are going to be provided for her.
C.E., Before
C.E., After
C.E. had badly damaged teeth beyond being restorable. The chosen solution was to extract all infected teeth and replace them with a new set of teeth supported by implants. First photo shows how he looked before we started the work. The second photo shows how he left the same day after the teeth were extracted, implants were placed and the new set of teeth was installed in his mouth. The whole procedure took 3 hours. The lower teeth are going to be done in another appointment.
J.U., Before
J.U., After
J.U. came to us in need of
E.R., Before
E.R., After
E.R.
D.K., Before
D.K., After
D.K.
Dental Crowns and Bridges
M.G., Before
M.G., After
M. G. came in with old crowns and broken down teeth due to an accident and grinding. Before we started and after.
R.C., Before
R.C., After
Rosalba came in because a tooth in the upper right needed to be taken out because of a root fracture. After we took the compromised tooth out, we had to choose between an implant or a porcelain bridge to replace the missing tooth. We opted for bridge because the patient was not too thrilled about implant surgery. The final result shows how great it fits aesthetically.
Dental Braces
O.C., Before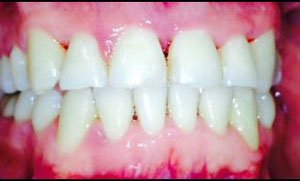 O.C., After
"The patient came in concerned with his growing gap between his front teeth and the fact that the front teeth in the upper arch became mobile. He was having nightmares that he was going to lose his front teeth. At Sewell Dental Arts we provided orthodontic treatment with dental braces for him. All his concerns were resolved just by this treatment. No crowns nor veneers nor dental implants. It was a very non-invasive approach. "
D.B., Before
D.B., After
D. B. came in because of missing upper and lower canines (I Teeth), which were impacted deep in the bone, crowded teeth, deep overbite, not showing enough teeth when smiling. We did braces for her, surgery to expose and bring down the impacted canines, corrected the smile line and the deep overbite.
D.R., Before
D.R., After
D.R. came to the office because of upper and lower crowded teeth. Upper left incisor was situated inside the arch line and the upper left canine did not erupt all the way. We treated him with dental braces and nickel titanium wires. See the beautiful result.
A.E., Before
A.E., After
A. E. came to out office with individually beautiful teeth, but crowded in the upper and lower. Braces were recommended and done in our office leading to this beautiful smile.
J.M., Before
J.M., After
J. M. was unhappy with his gaps between his teeth, crowding, canted smile plane. After treatment with Clear Aligners this is the result.
Porcelain Inlay and Porcelain Veneers & Lumineers
E.C., Before
E.C., After
Eileen came in with the chief complaint of ugly silver fillings sensitive to cold and heat. When we removed the old fillings, we found extensive decay. After we removed all the decay, the tooth structure left was not enough to support a filling, so we needed to do a full porcelain restoration (inlay) for each tooth. The advantage of porcelain restorations (inlay) is that they are made of pure porcelain, unlike the "white fillings" (composite) which are made of a plastic matrix filled with porcelain filler. They are both good, except that pure porcelain restorations (inlays) do not "age" and last longer in the patient's mouth.
C.M.., Before
C.M.., After
C.M. came to our office requesting to have a smile makeover bacause, despite being a beautiful women, she never smiled socially or in the pictures. The reason was the crooked teeth, gingival recesion, roots of the teeth showing above the gum line. She had done a full set of veneers upper and lower and was very happy with the result. Now she can smile in public and pictures.
D.R., Before
D.R., After
Chris had a discolored front tooth, which he fixed with with tooth whitening.